Japan disaster - tragedy frozen in time - World - NZ Herald News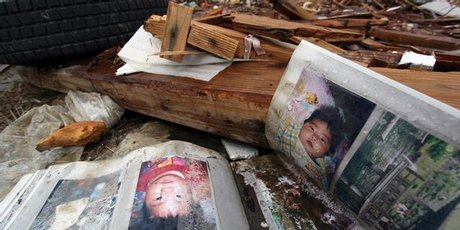 NZの友人のポールからいつも温かいメッセージを頂きます。NZの方も被災されたばかりなので人事に感じ無いそうだ。
特にこのポールは大学ラグビーのNZ選抜で日本に来たときに、日本大学選抜に敗戦を喫したらしくまた、日本の有名FFとの取引もあり非常に日本びいき。放射能漏れ発覚時は「やとうから来い」とまでいってくれた・・・非常にありがたい
We have our backpacks on the ground around us to stop the wind cutting straight through.
While we are setting up camp, the local police arrive. With the media-police relationship in New Zealand frosty at the best of times, I think we're in trouble. But all they want to do is make sure we are safe for the night before they carry on.
At each stop, we plan what our emergency exit will be, what we will take, where we will meet up if separated and who is going to film.
In every area we go to, the risks are weighed up and we back off if we feel it is too dangerous.
As we travel along the coast road, we come across small coastal villages, wiped off the map except for a few homes built higher up the hills.
Each town had a tsunami wall and warning signs posted everywhere for locals. To keep ourselves sane, we tell ourselves that they all heeded the warning signals and made it to higher ground.